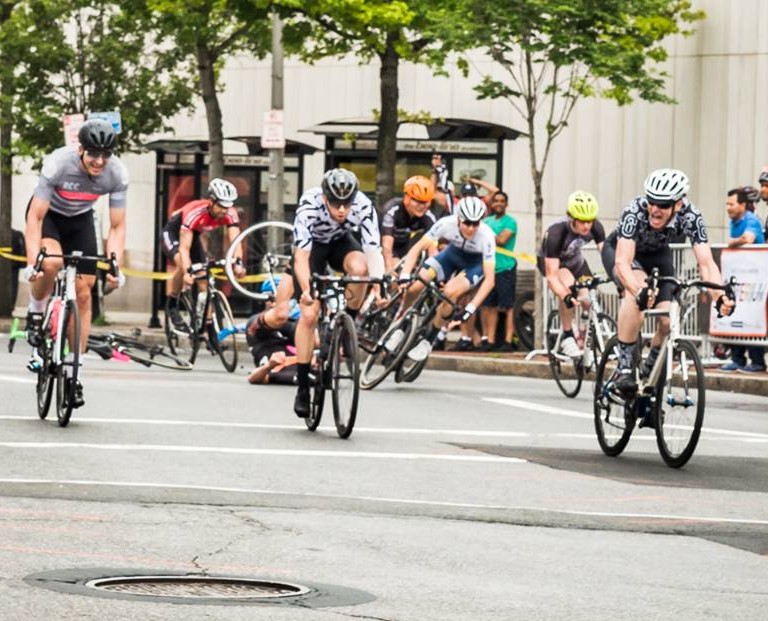 Going in I felt terrible. I woke up with an upset stomach. Then, in the moments before the race, I found my left cleat wasn't clipping in cleanly. It was almost worn out. I cursed myself for not checking my gear properly.
It's too late now though. I'll have to make do.
At the starting whistle I remained calm. I knew clipping in would be an issue so I took it slowly and didn't panic. By the time my pedals were set I was at the back of a pack of about 65 riders. Not ideal, but at least I wasn't off the back.
It's the fourth time I've raced here and I know the course well.
Four ninety degree right handers over about half a mile, all of them fairly wide.
The most testing sections are turn two, which is probably the tightest and is a little bumpy on the outside, and turn three which comes off a very fast downhill section and there is a real danger of a pedal strike. The finish straight is slightly uphill.
My last two crits, Red Hook and Orchard Beach, have been highly technical affairs so it was nice to ride a course that felt a little more forgiving.
In the opening laps I kept to the outside. By staying wide on the turns I could keep a high speed throughout the race and minimize the effects of the surging pack.
When the pack slowed I took the chance to move up on the outside. When it was strung out I held the wheel in front.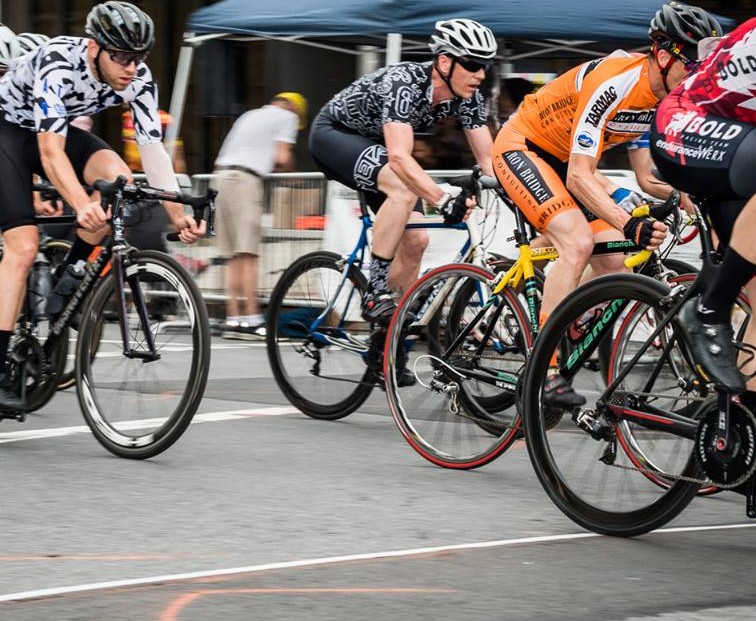 After a few laps I was back up at the sharp end, near the front but not on it; behind the head of the snake.
Crit racing is as much about preserving energy as anything else. In his book 'The Rider', Tim Krabbe has this to say:
"Racing is licking your opponent's plate clean before you start on your own."
Keep it steady, I thought to myself.
I did my best to defend my outside line. I didn't want riders surging past me on the left, boxing me in and forcing me to brake or accelerate to catch back on.
The laps counted down. Attacks came and went but the course is too open and fast for anyone to make it stick.
With four laps to go there was a momentary lull, the calm before a storm, if you like. The riders at the front realize that an attack is imminent but no one wants to make the first move. I've come to expect this moment.
I took the opportunity to move up into about fifth position. Ready. Waiting.
Over the next two laps I traded positions near the front with a tall rider from the CRCA Development Team.
With two laps to go, he attacked.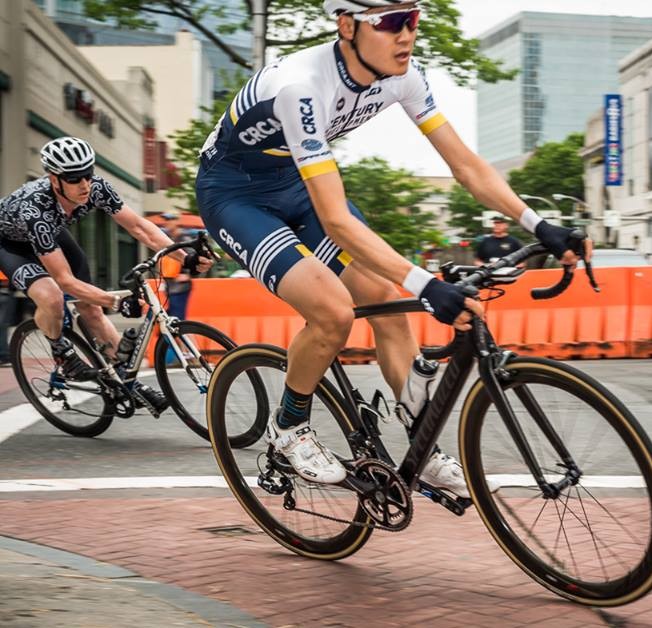 He surged past the leaders and took turn one fast, cutting from the outside to the inside with me on his wheel.
This move earned us both a fair amount of vocal criticism from the riders we went past who clearly felt that we had recklessly impeded their progress going into the corner.
If you're one of those riders who got cut off then please know that I'm very sorry if this was an unduly dangerous move. It wasn't my intention to be reckless.
The CRCA rider goes all out for half a lap before he starts to tire, looks back and wiggles his arm. He wants me to come through. I don't. At the bell he moves over and I realize that this is it. My chance has come.
I give it everything: total power and total concentration. A slip up now and the chance will be gone. No mistakes I say to myself. No mistakes.
I pull hard into corner one. I feel good. Now corner two – take care on those bumps. Then power up the hill and fast down the otherside and into corner three. Watch for pedal strikes – don't start pedaling too early. I make the turn into corner four. They haven't come around yet but it's starting to hurt.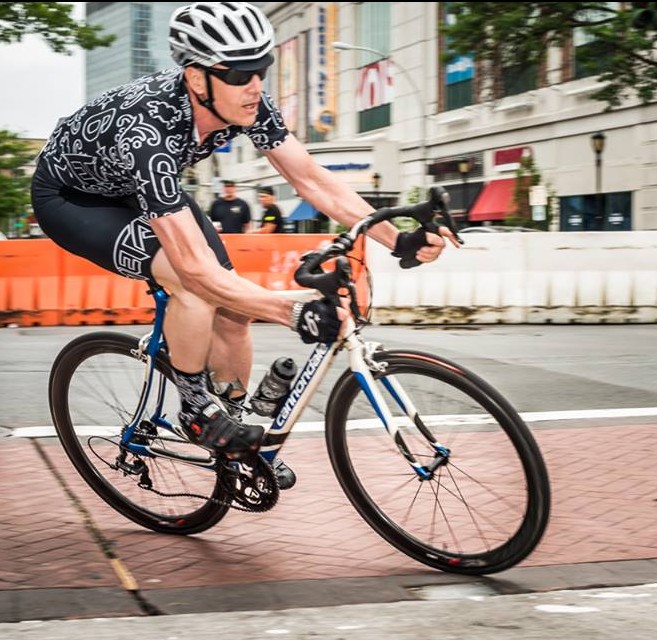 Up into the finishing straight. There's a crash behind me somewhere. I'm almost at the line but it's too much. My legs are screaming now. I change down a gear – it's a mistake. What sprinter drops down a gear on the line? As we cross the line I look over – one rider has sneaked past, maybe two.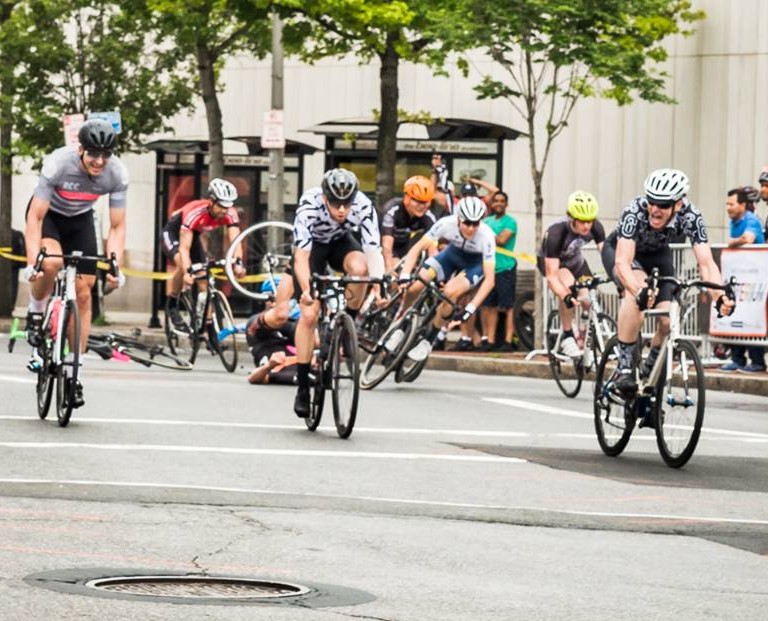 It's over.
Did I make the podium? I think so. Will there be a protest? I'm not sure. Have I blown it? I don't know.
As we warm down another rider yells at me for the move at two laps to go. I apologize and head back to the car to get my Twin Six podium t shirt.
The wait is agonizing.
Alan Atwood who is running the timing arrives and casually places the results down on a table near the winners' rostrum.
I'm second, but the winner of the race is from Connecticut. In the state championship he won't count.
The Cat 4 New York State Criterium Champion's jersey is mine.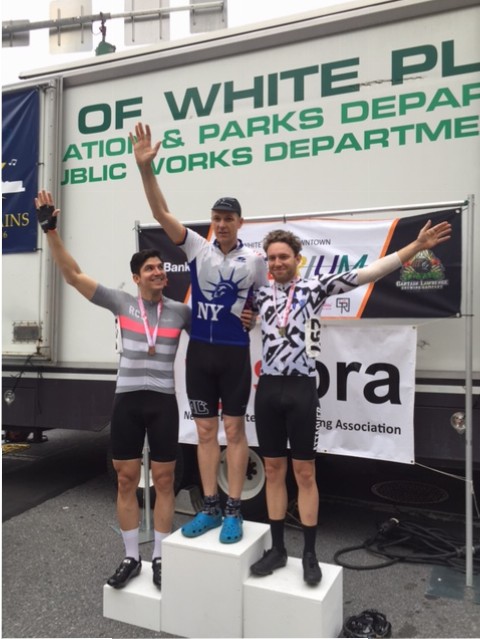 [Photo credit: Patrick Schnell Bike Racing Photography]
[Video credit: Miles Whitford]