Since I'm new around here, you should know a few things about me.  First, I am not an endurance racer.  I'm partial to cyclocross, where I can burn hot and fast, nearly throw up from the effort, and be done in an hour.  Or even cross-country mountain biking, which is a little longer but generally pretty full gas the whole way.  Secondly, I do not consider myself a climber.  So it seemed only natural that I would register for Southern Cross, a 55 mile gravel race that gains about 6300 feet of elevation.
In preparation for the race, I set my cross bike up with all.  The.  Gears.  I used a 34/46 crank and an 11/36 cassette.  My theory was that it couldn't hurt to have a bailout gear or two.  Or three.
Race day came, and brought with it perfect weather for a bike ride.  This early in the season in North Georgia anything can happen, so all the racers were stoked to see a start-time temperature near 40 and a forecasted high of the day in the low 60s.
The pace was high from the gun and the first group was probably up the road pretty quickly.  Having started in the back third of the pack, I never saw them.  Not being an endurance racer, my focus was set on watching my heart rate and power output and making damn sure that I wasn't going to blow up well before the finish.  We rode for a few miles on pavement before the race quickly turned to dirt.  The terrain started undulating immediately, but nothing serious and more confidence building than anything.  At about the 11 mile marker we were treated to a 3 mile stretch of singletrack, which had a few punchy climbs but overall was a nice change of pace from the gravel.
Immediately following the singletrack section was the first climb of the race, Winding Stair Gap.  The "road" goes up for more than 3 miles with grades reaching well above 10%.  This thing is no joke.  All my gears came into play, and I was able to climb in relative comfort, passing many racers who were overgeared and relegated to standing and grinding it out.  Unfortunately the descent following the climb didn't offer much opportunity for rest.  Every turn had washed out corners, making for interesting line choices in order to avoid a bone jarring chatter over washboard surfaces.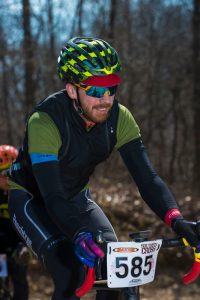 The second climb kind of sneaks up on you.  The road is smooth (for gravel), and it winds through a beautiful piece of forest, along a nice little stream.  It's easy to get lost in the scenery, but eventually you realize you've been climbing for miles. Like almost 10 miles.  Once it tops out though, you know that the rest of the race trends downward and there's a burrito with your name on it down there somewhere.  That "trending down," though, is going to kick your ass.  Every bit as washed out as the first descent, with the lovely addition of babyhead rocks EVERYWHERE.  Everyone I spoke to after the race agreed this was the hardest part.  After the descent was a short section of road, followed by a forced dismount to cross a stream, a quick, sharp hill, and a cyclocross barrier right at the base of the finishing straight.  Because after 55 miles of racing, everyone wants to get off their bike and hop a freaking barrier!
All in all, Southern Cross was a great race.  I finished in 4 hours, 21 minutes.  Good enough for 17th in my age group and inside the top 50% overall, and I beat my personal goal of 4:30.  And at the end of the day I can say I've dipped my toes into endurance racing, and the water is fine!