2017 Black Fly Challenge
June 16, 2017
I gotta say, this ranks up there in terms of bike races for me. The Black Fly Challenge is a yearly bike race in New York's Adirondack Park. The race alternates between running Inlet to Indian Lake and Indian Lake to Inlet. This year's edition traveled from Indian Lake to Inlet.
The banners over different area towns' main street call it a mountain bike race but the Black Fly Challenge is really a "ride whatever you have" race. Many of the top finishers were on cyclocross bikes but mountain bikes propelled racers near the front as well. I saw bike ranging from road bikes to fat bikes.
The majority of the 40 miles race is on gravel roads that dip and turn around the many lakes in the region. The terrain was great rolling ups and downs with no hill being super steep. This course was a real joy to cruise through. The sandy Moose River Plains made for some exciting bike handling quizzes but I managed to keep it upright and come out with a smile.
As the course neared Inlet, we turned onto some muddy two track. This course really had a bit of everything for every bike type being ridden. I offered to trade my cyclocross bike with other rider's mountain bikes at this point but nobody took me up on it. The cyclocross bike managed quite well to be fair. As the two track continued down hill, music from the finish line at the city park became audible; cheering and cowbells followed. We came around a downhill gravel corner and into the finish.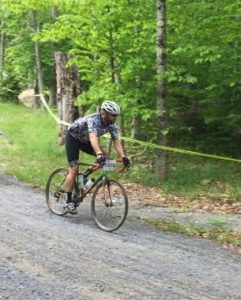 I finished third in my age group for cyclocross bikes. It was the most fun I'd had on a bike in a while. A great post-race celebration followed. I am fortunate that Megan was able to meet me at the finish with a maple glazed doughnut no less! Lots of great food and music throughout the afternoon. It was great to see and hear all the support for all of the finishers. I really recommend partaking in the Black Fly Challenge and spending the weekend in the Adirondacks.
It was great to see how much the area supports this event and also how much the participants support the local businesses in the area.
So oddly enough, I ended up misplacing my medal. I think it fell out of my pocket when I picked something​ up off the ground.  I figured I would try contacting the bike/flower shop in Inlet (Pedals and Petals) that is the major sponsor of the Black Fly Challenge to thank them for putting on a great event and ask if anyone returned a medal. Low and behold, a third place medal had indeed been returned. I was offered a "fresh" medal but instead took the original medal which now has seen surfaces of the parking lot and tire(s) up close. Good talking point for the future.
Bottom line is, the 2017 Black Fly Challenge was great. I recommend the race to all and can't wait to race from Inlet to Indian Lake next year.