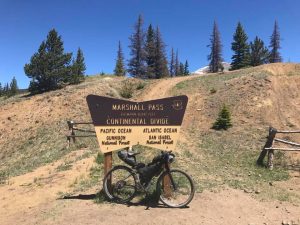 LOVE/HATE TOUR DIVIDE
This fucking thing. This incomprehensible monolith. This vast contour of uneven fits of euphoria and solitude that compels us into its expanse. I can't shake it. Either it won't let me go or I won't let it. I can't say for sure; but several months after I am still gripped by it, even though I emphatically declared to anyone who would listen that I would never return. I've tried to put it behind me. It hasn't worked. For the simple reason that whenever my thoughts wander, I recall staggering moments of beauty and hardship and vastness impossible to convey; moments so profound that I was forced to lay my bike down in the middle of some empty road just so that I could stand there and commit myself to the awe.  No matter how difficult the challenge, physically and mentally, I would turn a corner and find myself mesmerized by the landscape. I can't let go of the experience of simultaneously (and constantly) loving and hating the Tour Divide and the person it continues to reveal. Hiking my bike up from Radium, I quit several times. There was no one there to actually quit to, but I was done with this bullshit and would have hopped into any passing vehicle. The second I crested and turned around to see the Colorado River snaking its way past the little town below, I was so overwhelmed I forgot to breathe. I stood there, awash in the light of this sublime cathedral. All that anger vanished and I was back to racing the Tour Divide again. Love/Hate a thousand times a day and now that I am home, I can't believe how much I want to go back and how my hard-wrought experiences are now welcome memories that I look forward to disappearing into whenever I can. During lunch breaks at work, I pull up the GPX track I used to navigate the event on my monitor. I trace the track across thousands of miles. I remember and yearn.
The Tour Divide is a 2745 mile route that people challenge themselves on each year in June. It is technically open any time of the year, but the second week in June is when a group of like minded individuals start their journeys. At some point my interest piqued when I heard about John Stamstad breaking trail along the GDMR in 1999 and then my obsession grew through the Matthew Lee years after the Canada section was added. I followed each year.  Long before the documentary everyone swears inspired them to tackle the Tour Divide, I was dreaming about taking on the route. I studied the hard to find images of racers on the Adventure Cycling Association site.  I collected images to study the bike set ups of various riders. I still do this each year, habitually.  Whether I am riding it or not. I dreamed of owning Matthew Lee's Cannondale Flash. I swear there is a picture of Jay Petervary riding a carbon Orbea hardtail with an umbrella in one had to beat the heat. I wondered at the frame bags, then only produced by Carousel Design Work, and pondered the immense possibilities this mysterious experience would reveal. I also just thought it was categorically cool and knew I would have to try it. I was enthralled by the romance of it all. I think I still am. To be honest, I have never truly comprehended my draw to the event.  It simply compels me. I can't actually understand why someone wouldn't want to do it.
Now that I have experienced the Tour Divide, I am helpless.  Even though the experience washed away the romance of it all, I find myself constantly flashing back to the route. At any point in the day, my thoughts drift through patchwork memories: standing somewhere between Salida and Hartsel with my loaded bike leaning heavy against my leg; navigating patches of snowmelt along Brazzos Ridge. I am constantly reliving a looped film reel of half recollections and disconnected images: sun on cracked lips; flat coke from a bottle buried in my frame bag; the inexplicable presence of a heart-shaped car hood rusting in the middle of the Great Basin; a road ahead that infinitely unspools into the distance beneath an equally vast cloud mottled sky; the lights of Tomichi Trading Post twinkling in a sea of black; the despair and magnificence of Wamsutter; that dazzling, otherworldly hub of incongruity which, after a day of crawling into a soul crushing headwind, stood out like a beacon, like the very last surviving spark in a galaxy of dust and desolation. One way or another, I am always present along the GDMR, transfixed by some finite point within its enormous reverie. I even have a collection of saved photographs to make my screensaver, so that at any time during the day, especially during meetings, I can lose myself in some part of the route.
I think about the Tour Divide a lot. I think about it and I think about why I am thinking about it so much. The way it lingers. Either I am trying to unravel a myth in the hopes of finding myself somewhere within it or just making a bigger deal of it all because chalking it up to hive-fives, teeth gnashing grit and stoke just seems disingenuous. Or maybe, it doesn't matter at all and it is just rooted in me because I couldn't finish and am unrequited; because I've left something out there on the Great Divide and it sits exposed on some ridgeline like that heart-shaped hood, incomplete and waiting.  What I do know is that while I was out there, I felt a depth of meaning that just doesn't exist for me anywhere else because it shouldn't.
Since returning home, I am constantly working the memories over, trying to recall the totality of my experience and give it coherent shape so that I don't lose some and then all of it. I keep writing up this report, but I can't finish. It is as if I am endlessly mending a loose knit stitch in order to prevent the fabric from losing its shape. I sift and sort and shuffle and try to cord the memories so that I can wrap my head around it, come to terms with actually traversing notches in the backbone of the continent; comprehend its hard lessons and why it is constantly with me, faintly whispering its secrets like ghosts chanting at the edge of a dream.