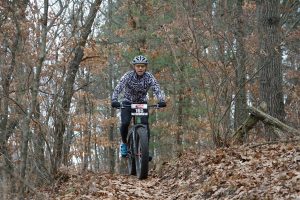 Well, I finally got out and rode a fat bike! And to make it more interesting, I did it as part of a two man team at the Brewery Vivant Farmhand Fat Bike Race.
What did I think? Well, it was AWESOME. And also made for an epic story, because that's how conflict in a story works.
You may have noticed that "I finally got out and rode a fat bike…" It's true. I've never ridden one before, but always thought it would be fun. When another rider in the area mentioned that I should join him for this race, I gave my usual "don't own a fat bike, but it would be awesome" spiel. Another friend piped up, and offered up his Fatback as my steed. Game on!
January 27, 2018. Race day. I get on the bike for the first time, and take a lap of the course. I gotta tell ya, fat biking is FUN. Feels like it makes up for a lot of my inadequacies in mountain biking.
12:05: The race begins! I set off on my first lap, presuming it won't take long – it's only 4ish miles. About 1 mile in my chain drops. Taking a look, I'm amazed, because it's a 1×10. How does someone drop their chain on a 1x? Must've been my masher legs, because the chain is also jammed real good between the crank and BB. I wrestle with it for a bit, and 3 minutes later I'm off. First lap done at 12:40ish – not that fast.
It's a two man race, so I grab some food while my partner races. Good thing too, because lap two is where things get interesting.
1:05-1:10 (wasn't really paying attention): Lap two! The snow at the start has gotten rutted and pitted, and the bike just won't go. Running start! Less than a mile in, and things just aren't feeling right. It seems as though my thighs are burning, even though I feel a lot slower. Since I'd just run a heavy bike through semi-deep snow, I assumed (incorrectly) that was the problem.
About 1.5 miles in, on a particularly steep climb, I stop on the way up a hill. I'm winded and flabbergasted; I never stop! Gave the bike a once over, and found out the front tire was flat.
Huh. Wasn't expecting this. Well, I've heard you CAN run fat tires at ridiculously low PSI, so I got to work inflating that tire using the only tool available at the time. My lungs. That kind of worked, but also kind of didn't.
I'm off again! It's riding ok, not great. I take to lifting the front end on climbs to prevent the super squishy tire from bogging me down.
Somewhere within the next mile I nearly crash on particularly sharp bit of turning in the woods. Now I have no rear brakes?! And so began the most ridiculous ride through the woods of my life. I'm trying to pop wheelies while climbing hills, and pushing that squishy tire into the ground while shifting all my weight back in order to maintain some semblance of control on the downhills.
And I finished the lap! Not with a great time or anything, but I finished! My partner told me it was only about 3 minutes slower than the first lap, which is kind of amazing. My lungs and legs felt like I'd been riding for two hours.
And guess what? Now I'm looking to buy a fat bike. Because you could never have that story on anything but.