Green Gobbler 6 hour solo, expert/open, 1st place
February 5, 2018
Conyers, GA
Georgia International Horse Park (home of the 1996 Olympic MTB course)
January 27, 2018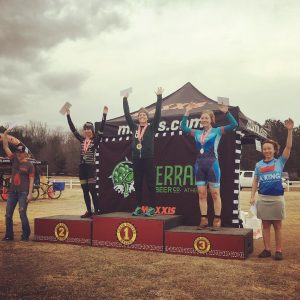 This was the third time I've raced the Green Gobbler. It's always a super fun, well organized race, so I was very happy to discover that my Cape Epic training plan lined up perfectly with doing this race. Ben and I drove up from Gainesville Friday evening after work and set up camp. We ride there a fair amount so we weren't too worried about missing a course pre-ride.
I like a good mass start. I was happy to see more women than I expected to on the start line. I've been racing cyclocross so I knew I would be amped up to start fast.  I saw Annie race at MTB Nationals last year and knew she was super strong. She stayed on my wheel for about half of the first lap. At that point, I started inching away from her. The course was super curvy and twisty. It was really easy to see your opponents through the woods. I had a gap but it wasn't too big so I new I had to keep moving fast. I settled into a nice steady rhythm for the 2nd lap to hang on to my lead. By middle to end of the 3rd lap I could see Beata starting to catch up to me. With so much of the race yet to go I figured tactically I wouldn't gamble with pushing myself too hard to stay away. Once she caught me we chatted a bit and she went by me to take the lead. I followed her for a while feeling pretty good. Then when we hit the first big climb of the course, she was pushing it more than I wanted to do myself so I backed off and let her go. I was hoping that I could just catch back on on the downhills but that didn't happen. I ended up back a couple minutes.
One thing you should know about 6 hour racing is it can be an emotional rollercoaster. I'm really into meditation. One of the things I work on mentally in sport is finding the feeling of flow. If you've been there you know it's freaking great. Everything is working as it should and you're not overthinking riding or racing. What I've come to discover is this is super easy to find when you are having a good race, but when you aren't it's a struggle and the struggle itself hinders your performance. So I start dwelling on this and trying to acknowledge my angsty feelings and let them go. Anyway, pro tip: when you feel grumpy on the bike EAT FOOD. That's what I did next.
I started eating a bunch of food and grabbed my Red Bull bottle when I went through the feed zone at the start of my 6th lap. The Red Bull for real gave me wings! (sponsor me Red Bull!) I felt like a new person and started picking up the pace. I had no idea if I could make up the minutes I had lost to Beata but I was sure as hell going to try. At the start of my 7th lap I saw Beata's husband Pax. He had been on the course all day giving her time splits. I yelled to him "I'm coming for her" as I went by. (Red Bull bottle) About a third of the way through that last lap I caught sight of her through the woods and started counting to figure out she was only a minute ahead of me. I'm like omg I can do this! Then I climbed the first big hill and was like omg I can't do this! When I caught sight of her in the woods again I decided either way I was going to finish strong. Leaving it all out on the course with no regrets is something that I actively work on everytime that I race. I saw her a couple more times through the woods and could tell I was making up ground. Through the last short twisty section before the gravel road to the finish I caught a young guy that had passed me on the climb earlier that lap. It wasn't a good place for passing so I told him I was trying to catch the person right up there. He politely picked up the pace so that he wouldn't slow me down. As we left the woods onto the gravel road he said let's go and started gunning it. We caught Beata and flew by her. He pulled off and I buried myself for the last 500 meters to the finish line. I was stoked to win and satisfied with myself that I raced hard all the way to the finish line. Also, I love sprinting, but it hurts after 5+ hours of racing.